Phaeton PH380-2T Solar Pump Inverter 4kw 17A
Roll over image to zoom in
Click to open expanded view
KSh48,900 (-4%)
Model No: PH 380-4K0GB-2S
Output Power: 4kw
Output: 0-220V, 1 PH
Rated Current( Amps): 17

MPPT Voltage: 320

Applicable Pumps (KW):2.2KW
1 phase
General Type 2T Series
FREE Delivery within Nairobi CBD and at a small fee in other parts of Kenya.
Product Details and Features
This Phaeton PH380-2T Solar Pump Inverter 4kw 17A comes along with some of the following features:-
( Power range: 0.75-1.5kw for 110V, 0.75-7.5kw 220V, 0.75-37kw 380V)
Built-in MPPT function and efficiency of up to 99.6%
This Inverter Could drive both AM and PMSM pump
Has an All-round-protection function with advanced hardware design
Posses Perfect stability in output frequency
Remote control and monitoring by GPRS system(Available in PC and mobile)
The dry run function, therefore, gives protection to the pump
Phaeton PH380-2T Solar Pump Inverter 4kw 17A has an Automatic start and stop function
DC and AC as input power sources accepted
Low voltage input down to 60VDC input for 220V pump solution

Model Selection:
SN
Model No.
Rate current
Output voltage ( 3PH AC)
Applicable for pumps
External of drive size(mm)
MPPT voltage (VDC)
Weight (kg)
General type 2S series: Input 150 to 450V DC or 200 to 240V AC, VOC 350 VDC
1
PH380-2S-0P7G
4A
220V/240V
0.75KW
252*195*230
260 to 375
2
2
PH380-2S-1P5G
7A
220V/240V
1.5KW
252*195*230
260 to 375
2
3
PH380-2S-2P2G
10A
220V/240V
2.2KW
252*195*230
260 to 375
2.5
4
PH380-2S-004G
16A
220V/240V
4.0KW
315*235*253
260 to 375
4.3
Technical Specifications:

Recommended MPPT voltage range
Vmpp 131 to 350 VDC for 1S model (80V to 350VDC input, 3PH 110 to 220VAC output)
Vmpp 280 to 375VDC for 2S model ( 150V to 350VDC input, 3PH 220 to 240VAC output)
Vmpp 486 to 750 VDC for 4T model ( 250V to 800VDC input, 3PH 380 to 460VAC output)
The Recommended input voltage (Voc and Vmpp)
Voc 180(VDC), Vmpp 155(VDC) for 1S model or 110V AC pumps
Voc 355(VDC), Vmpp 310(VDC) for 2T model or 220V AC pumps
Voc 620(VDC), Vmpp 540(VDC) for 4T model or 380V AC pumps
Motor type
Control for permanent magnet synchronous motor (PMSM) and asynchronous motor (AM)
Input power
DC power from solar arrays or AC grid power
Maximum DC power input
450VDC for 220AC output / 850VDC for 380V AC output
Rated output voltage
3-phase, 110V/160V/220V. 3-phase, 220V/380V/480V
Output frequency range
0~50/60Hz
MPPT efficiency
99%
Ambient temperature range
-10℃ TO 50℃
Solar pump control special performance
MPPT ( maximum power point tracking), CVT (constant voltage tracking), auto/manual operation, dry run protection, low stop frequency protection, minimum power input, motor maximum current protection, flow calculating, energy generated calculating
Protection function
Phase loss protection, phase short circuit protection, ground-to-phase circuit protection, and input, and output short circuit protection. Stall protection
Protection degree
IP20, Air force cooling
Running mode
MPPT, CVT
Altitude
Below 1000m; above 1000m, derated 1% for every additional 100m
Standard
CE certificate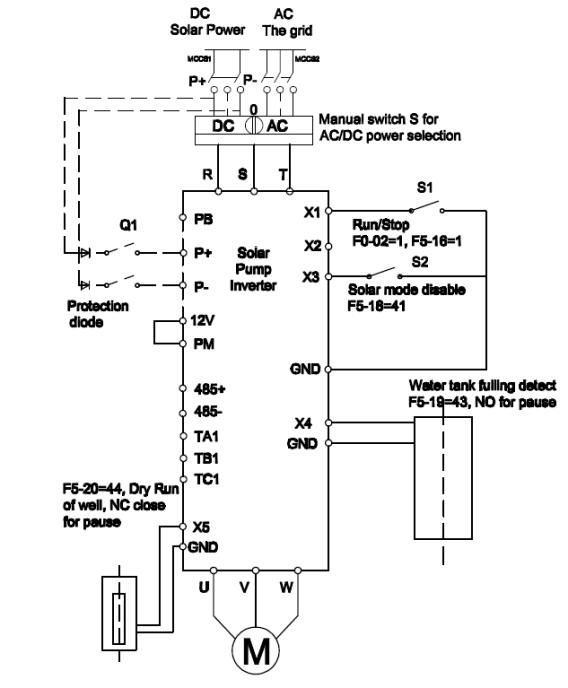 >> Click to view More about this product 
Only logged in customers who have purchased this product may leave a review.