Hober Solar Water Pumping inverter – 2.2 Kw Three Phase Hybrid
Roll over image to zoom in
Click to open expanded view
KSh84,000 (-18%)
The Hober 2.2 Kilowatts Three Phase Hybrid MPPT Solar Water Pumping inverter main functions include converting the DC power into Ac Power to drive the pump, and real-time adjust the output frequency to achieve the maximum power point tracking. The inverter is appropriate for three-phase pumps with power requirements below 2200 Watts. Output 380V Three Phase 50/60Hz
Ac input : Three Phase 380V/415V 50/60Hz
Solar input 450~900VDC
Hybrid AC Power Input
Download Hober 2.2 Kilowatts Three Phase Hybrid MPPT Solar Water Pumping Inverter pdf datasheet here
Hober Solar Water Pumping Inverter – 2.2 Kw Three Phase Hybrid MPPT Introduction
Hober 2.2Kw Three Phase Solar Pumping Inverter converts the DC power of the PV array to Three Phase-AC power and drives the pump, according to the power of PV array output, regulates output frequency and let PV output max power at all times.
Hober Hybrid Solar Water Pumping Inverter Brand Introduction
Hober 2.2Kw Three-Phase Hybrid Solar Pumping Inverter Advantage:
Hybrid (Solar, AC Power, Battery, Diesel generator)
Automatic switching
MPPT MEPT function
Solar Booster for saving solar panels
Metal Shell, Waterproof IP65
Setting working time, Control the flow
Film capacitor 100000 working hours
Work with three phase 380V/415V pumps that meet its output parameters.
Has accessible sensor connectors for both thank and borehole.
Unique High PV Voltage support of up to 900V unlike most other brands in the market.
Hober Solar Water Pumping Inverter – 2.2 Kw Three-Phase Hybrid MPPT Features:
Convert the DC power of solar array into AC power to the water pump. Soft start and Variable Frequency drive the pump.
Second Generation of MPPT Function: Automatic /don't need set MPPT voltage by LCD/LED. Efficiency is Max to 30% higher than the inverter who need to set the MPPT Voltage, more output water flow.
One key for startup/Stop, support to adjust the output water flow also.
Without battery, storing water is more efficient than storing electricity, reduce the cost of construction, operating and routine maintenance
Protection: Over temperature, over input voltage, over input current, overrated load, input anti-reverse output short circuit, phase missing, phase unbalance, lighting, dry run protection by software/Well sensor, waterproof.
water level detective of tank for overflow, Optional of pressure sensor for long distance between the well and tank.
Mobile phone control or computer remote monitoring through RS485/GPRS/wifi/Ethernet(optional)
Hober 2.2 Kilowatts Three Phase Hybrid Solar Water Pumping Inverter Technical Parameters
Model
HSPH2200H
DC Input
Rated Power(W)
2200W
Min DC Input Voltage(V)
460V
Max DC Input Voltage(V)
900V
Rated Power of DC Input

Voltage Request(V)

500-900V
AC Output
Rated Power AC

Voltage(V) 3 phase

380V/400V/415V
Rated Power AC

Current(A)

7.2A
Inverter efficiency
99%
Output frequency(Hz)
0~50/60
Others
Water Level Sensor (Water of Well)
Yes
Water Level Sensor(Water of tank)
Yes
AC Switcher
Optional
GPRS Monitor &Controller
Optional
 Protection type
IP65 DC input Low/Over Voltage
DC Input Anti-Reverse
Output overload, Output short circuit
Over temperature
Sensor of Water Empty/Full
Lighting
 Operation Limit
Noise(1 m)
 <50dB
Operation environment  temperature
 -10 to 60Degree
Humidity
 15%-+95%RH
Using altitude(m)
 <4000Altitude higher than 1000m pls consider to use less loads
Others
Prohibiting the installation location: direct sunlight, thicking dust, corrosive gas or oil mist, flammable. etc
 Adapted Pump
 Support Pump's HP
 ≤3HP
 Rated Power(W)
≤2200W
 Rated Frequency(Hz)
 0~50/60
Rated Voltage
AC-380V-Three phase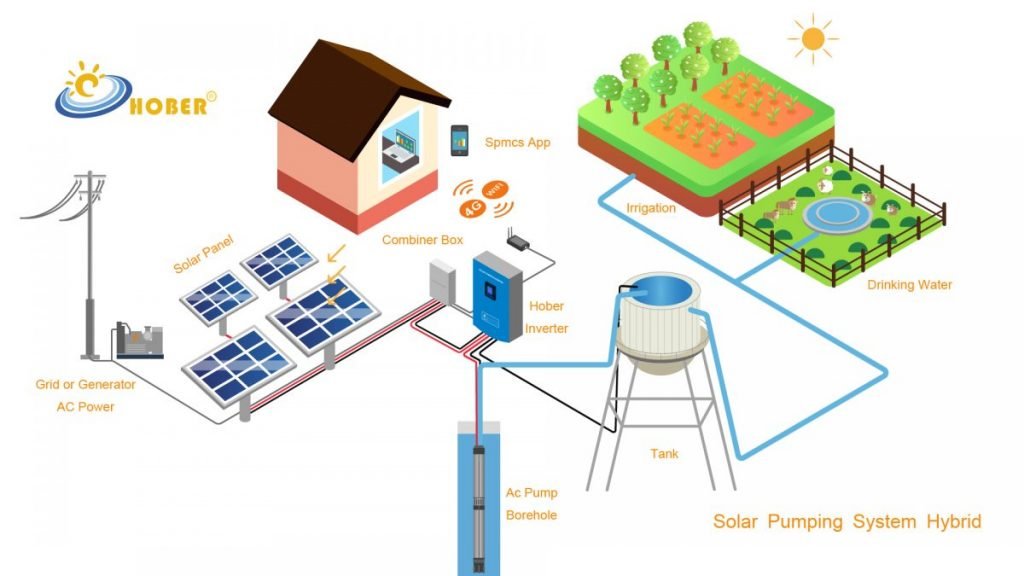 Buy Hober 2.2 Kilowatts Three Phase MPPT Hybrid Solar Water Pumping Inverter in Kenya at the best price from SolarShop Africa
Only logged in customers who have purchased this product may leave a review.