Victron Quattro 48V/8000VA/110A-100/100/230V VE.Bus Inverter/Charger
KSh549,900 (-8%)
Victron inverters are known for their high quality and long service life. Buy this inverter for Power backup applications as well as off-grid and on-grid applications. The inverter can be used in both DC and AC-coupled systems. Works well with Victron Blue Solar or Smart Solar charge controllers in DC-coupled systems but is also compatible with most r MPPT charge controllers in the market. Fronius Ongrid inverters are usually the favorite when integrating Quattro on AC-coupled systems.
Get the best deals and professional Solar Energy consultation from SolarShop Solar Energy Experts.
Download Victron Quattro pdf datasheet here
Download Victron Quattro pdf installation Guide/Manual here
Victron Quattro 48V/8000VA/110A-100/100/230V VE.Bus Inverter/Charger
Victron Quattro 48V/8000VA/110A-100/100/230V VE.Bus Inverter/Charger with 110-amp battery charging and 100-amp dual AC transfer capability compatible with all batteries including Lithium.
The Victron Quattro has two AC Inputs & two AC Outputs meaning two independent power sources can be connected, such as a generator or mains power. The Quattro automatically selects the input where voltage is present with the generator input taking priority.
PowerControl is a valuable feature, especially when handling limited power such as generator supply. When the Quattro draws significant current from the generator or shore side supply, set the maximum current limit on each AC input. Considering other loads, the Quattro adapts so that only surplus power is used for charging, thus preventing the generator or mains supply from being overloaded.
The PowerAssist feature will enable the device to supplement the incoming power with power from the battery. Any excess power is used for charging. It is therefore no longer necessary to size a generator on the maximum peak load. Use the most efficient size generator instead.
The automatic and uninterruptible switching will ensure that if the power supply fails, the device will switch over to inverter operation so fast that loads will be unaffected, making this device an ideal choice for emergency power situations and telecommunications applications.
For three-phase operation, three units can be configured, and additionally, potentially unlimited power supply can be achieved with the Multiple System Integration function, which allows for up to 6 Qattros [48/8000/110, for example], to operate in parallel providing 48kW / 60kVA output power and 600 Amps charging capacity.
For split phase operation, two Quattros would be stacked to provide 120-0-120V, and additional units can be paralleled up to a total of 6 units per phase, to supply up to 30kW / 36kVA of split phase power.
The Victro Quattro can be used in off grid as well as grid connected PV and other alternative energy systems. Loss of mains detection software is available.
Configuring parallel and three-phase systems is made simple with the VEConfigure software tool – the Interface MK3-USB is required.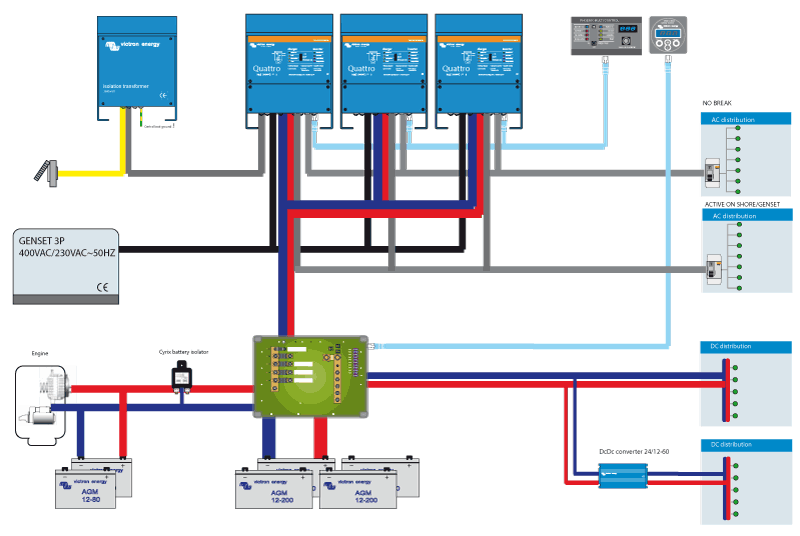 Victron Quattro 48V/8000VA/110A-100/100/230V VE.Bus Inverter/Charger specs
| | |
| --- | --- |
| Input Battery Voltage Range | 38-66V DC |
| Nominal AC output Voltage | 230V AC |
| Continuous Power Rating | 8000VA |
| Peak Inverter Efficiency | 96% |
| Waveform | Pure Sine Wave |
| Nominal DC Input Voltage | 48V |
| Nominal AC Input Voltage/Frequency | 187-265 VAC |
| Frequency Range AC Input | 45 – 65 Hz |
| Dimensions | 470 x 350 x 280mm |
| Weight | 41kg |
Get Best prices for Victron Quattro 48V/8000VA/110A-100/100/230V VE.Bus Inverter/Charger online in Kenya at SolarShop Africa
Only logged in customers who have purchased this product may leave a review.