victron smartsolar mppt 450/100-tr
KSh200,500 (-2%)
The MPPT VE.Can SmartSolar charger uses the latest and fastest technology to convert energy from a solar array into energy that optimally charges a battery banks.
The SmartSolar charge controller will even recharge a severely depleted battery. It can operate with a battery voltage as low as 0 Volts, provided the cells are not permanently sulphated or otherwise damaged.
Ultra-fast Maximum Power Point Tracking (MPPT) Solar Charge Controller
The MPPT RS SmartSolar is a 48V Solar charge controller with up to 450VDC PV
input and either 100A, or 200A output. It is used in on-grid and off-grid solar
applications where maximum battery charging power is required.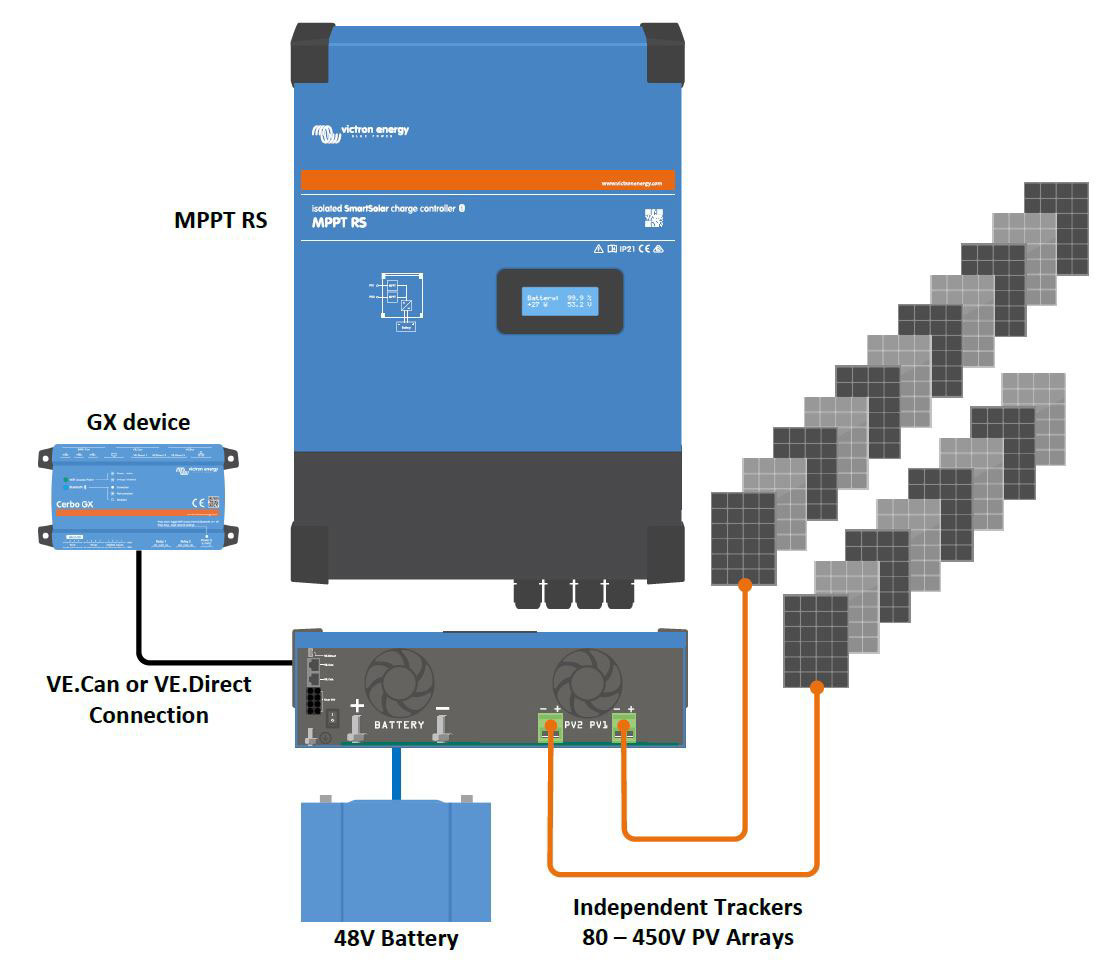 System example diagram
The 100A MPPT RS combined with a GX device, charging a 48V
battery with 2 separate solar PV strings.
Multiple independent MPPT tracking inputs
With multiple MPPT trackers, you can optimize your solar panel design for
maximum performance for your specific location.
Isolated PV connections for additional safety 
Full galvanic isolation between PV and battery connections provide additional
overall system safety.
Wide MPPT voltage range
80 – 450 VDC PV operating range, with a 120VDC PV startup voltage.
Light weight, efficient and quiet
Thanks to high frequency technology and a new design this powerful charger
weighs only 7.9 kg for the 100A model. In addition to this it has an excellent
efficiency, low standby power, and a very quiet operation.
Display and Bluetooth
The display reads battery, and controller
parameters. The parameters can be accessed
with a smartphone or other Bluetooth enabled
device. In addition, Bluetooth can be used to
set up the system and to change settings with VictronConnect.
PV Isolation resistance monitoring for peace of mind at higher voltages
The MPPT RS continuously monitors the PV array and can detect if there are
faults that reduce the isolation of the panels to unsafe levels.
VE.Can and VE.Direct port
For connection to a GX device for system monitoring, data logging, and remote
firmware updates. VE.Can allows for up to 25 units to be connected together in
parallel and synchronize their charging.
I/O Connections
Programmable Relay, temperature sensor, auxiliary, digital input and voltage
sensor connections. The remote input can accept the Victron smallBMS, and
other BMS with allow-to-charge signal.
Configure and monitor with VictronConnect
The built-in Smart Bluetooth connection allows for
quick monitoring and settings adjustment.
The built in 30 day history shows individual
performance of the separate MPPT trackers.
Try the VictronConnect demo to see the full range
of configuration and display options with sample
data.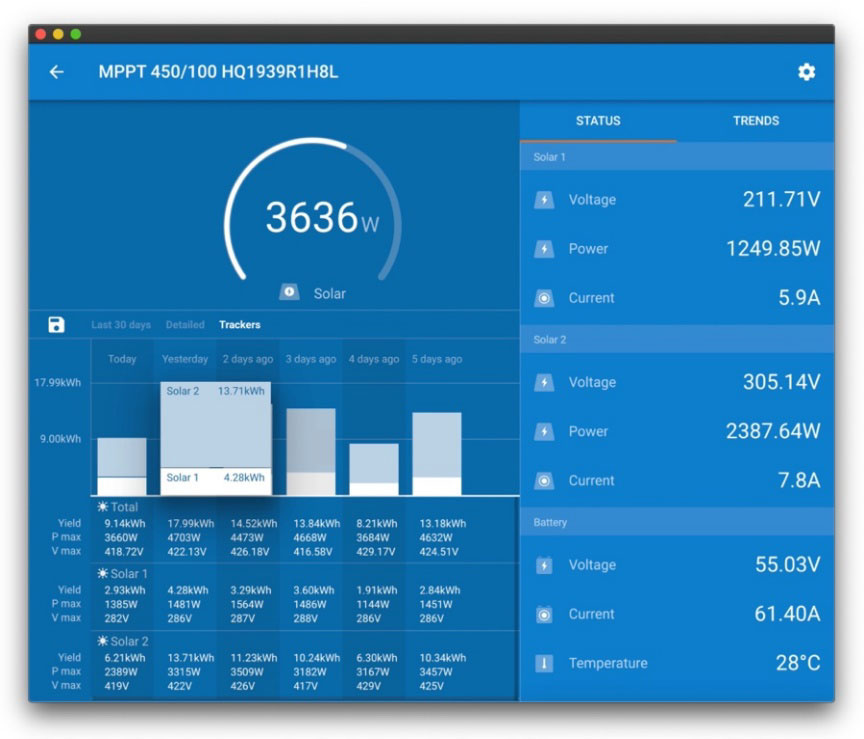 Remote monitoring and control
You can remotely control and monitor the extensive functions of your SmartSolar MMPT charger with integrated Bluetooth by coupling it with your smartphone or other device via VictronConnect. If your system is connected to the Victron Remote Management Internet Portal (VRM) via a GX device, you have full access to your MPPT anytime, anywhere. Both VictronConnect and VRM are available free of charge. For remote installations – even if there is no internet connection nearby – you may be able to monitor your MPPT by connecting it to the GlobalLink 520.
Only logged in customers who have purchased this product may leave a review.